The 2021 Subaru Love Promise Customer and Community Commitment Award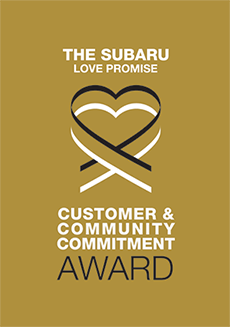 We've been nationally recognized for our dedication to our customers, our community, and the Subaru Love Promise.
We're honored to receive the 2021 Subaru Love Promise Customer and Community Commitment Award. This award nationally recognizes elite Subaru retailers who provide an exceptional customer experience at every interaction with Subaru. These retailers have also demonstrated an outstanding commitment to supporting passions and causes in their local communities in important areas such as the environment, community, health, education, and pets.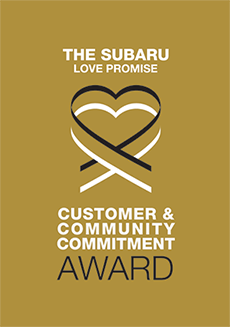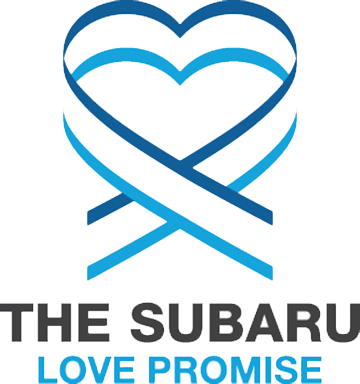 What is the Subaru Love Promise?
Subaru and our retailers believe in making the world a better place and the Subaru Love Promise is our vision of respecting all people. This is our commitment to show love and respect to our customers and to work to make a positive impact in the world.
How is Serra Subaru dedicated locally to the Love Promise?
Park Subaru's Love Promise can be seen in various partnerships with local charities and non-profits. We're grateful for the opportunity, not only to be a part of our community, but to serve it as well.
Akron-Canton Regional Food Bank
Akron Children's Hospital
Love Promise Stories from Serra Subaru
Subaru and Serra Subaru believe in making a positive impact on the communities in which we live and work. We uphold that belief through our Love Promise Community Commitment. Every month, we select inspiring stories from customers and partners from around our area who strive to support our collective commitment and feature them here
Terrance, Faith and Lulu's Adoption Journey - Tanya J
The story you are about to read is about three, yes three, feline leukemia positive cats who all found a loving home together. Feline Leukemia is not, in fact, cancer. It is a virus that weakens the immune system and causes the infected cats to contract potentially fatal diseases. They can suffer from a runny nose, eye discharge, vomiting or diarrhea as well. As soon as any symptoms are noticed, they should be promptly taken to the vet. Most shelters will not house or keep Feline Leukemia positive cats because it is highly contagious. They cannot be housed or in proximity with any other healthy cats or they risk spreading the virus. We have a room designated for our Feline Leukemia positive cats. They can happily co-exist together, if they are not doing well together, we will separate as needed. Let us start with Terrance. Terrance came to us in July of 2018 as a stray; during his initial intake he tested positive for Feline Leukemia. Terrance was a tough one, he was considered "semi-feral" and could not be touched by many. He would tolerate a pat or two but was always quick to tell you when he had had enough. He waited over 2 years to find his forever home. Now, he sleeps on his new owners' feet every night! Faith is a feline leukemia positive cat that arrived in our care in August of 2020 and was with us for 2 months before finding her forever home. Not only is she positive for feline leukemia, but she is also blind. This made it difficult for her to navigate the room and all her food, water, and litter had to be on the floor. Faith also did not have any teeth and could not fend for herself. Now, she follows her siblings around the house and runs up and down the halls. Lulu came to us in August of 2020 as well, after she tested positive at another shelter. Lulu was a very shy girl and was not doing well in our group room. She is a tiny girl and was getting bullied for food. Now, she is thriving in her home and does not have to compete for any food or treats. Her new owner gives Terrance, Faith, and Lulu undivided attention and love. Their new owner came in to adopt after losing her 19-year-old Feline Leukemia cat. She was undecided initially and one of our staff members jokingly asked her to adopt all three, and she did, without batting an eye. One feline leukemia positive cat is a big commitment, as their health can be unpredictable at times. She selflessly adopted three positive cats to give them all a chance at a long and happy life. Typically, our Feline Leukemia positive cats tend to stay at the shelter longer than most, as their health issues tend to scare or make potential adopters nervous. Our goal is to educate the public and show them feline leukemia is nothing to be afraid of. We could not be more thankful for our adopters, and for them giving our pets a chance and changing their lives.
---
ACCESS, Inc - Dominic H
ACCESS, Inc. is an emergency shelter in Akron, Ohio that works to address the plight of women and children in our community experiencing homelessness. The agency encourages the development of self-esteem and the attainment of self-sufficiency through its commitment of providing a holistic, safe and supportive environment, and through it's programs of housing, advocacy and empowerment. Each year ACCESS serves anywhere between 400 and 450 women and children with 55% of the residents being children under the age of 18. The blankets provided by Serra Subaru will impact the shelter by providing warm nights for those staying with us this winter. Blankets, twin sheets sets, and pillows are something that ACCESS will always need as residents take all of those home items with them when they leave and exit into their permanent house or apartment. As a result the agency goes through a lot of these items each year. ACCESS would not be able to function without the support of community members like Serra Subaru, and the support provided will truly make an impact this winter season and beyond.
---
Serra Subaru & Ambassadors Team up for Troops - Terry T
In late September a group of Subaru ambassadors, employees, and volunteers gathered together to pack goodie bags for a group of deploying troops. Serra Subaru donated bags, offered a location, and set up a great area to collect handwritten notes of encouragement. Along with the help of our other volunteers we were able to stuff 150 bags for a local transportation unit leaving in October. The bags were filled with snacks, reading materials, and thank you gifts like a picture frame. Offering support for our hardworking national guard troops was the main goal but surely after seeing all the snacks and reading the handwritten notes we were also able to bring a smile to their faces. Leaving your family and loved ones to help our country is a big commitment and we wanted to say thank you the Subaru way. Mission accomplished! Thank you also to Serra Subaru and Subaru Ambassador program for your support and for always showing just how much Subaru Loves to Care.
---
Serra Subaru helps feed the community - Serra Subaru S
Serra Subaru helps feed families facing hunger in partnership with Akron-Canton Regional Foodbank Serra Subaru donated more than $32,000 to the Akron-Canton Regional Foodbank, helping provide the equivalent of nearly 129,000 meals for the 1 in 7 individuals, children and senior citizens in Northeast Ohio who struggle with hunger. It's because of partners like Serra Subaru that families aren't forced to make difficult decisions like choosing between a nourishing meal for their children and paying for rent, utilities or medication. Because of their support, families can find hope. LESLIE GENOVESE // Director, Corporate RelationsAKRON-CANTON REGIONAL FOODBANKmain 330.535.6900 // direct 330.777.7572350 Opportunity Pkwy, Akron, OH 44307
---
Serra Subaru donates books to Uniontown Elemantry - Carolyn W
Serra Subaru donated books to Uniontown Elemantry during our Subaru Loves Learning Event! These pictures make our hearts smile. We love contributing to our community!
---
Volunteering for Habitat for Humanity - Carolyn W
Once a year we volunteer for Habitat for Humanity to help build a local home! We had multiple team members volunteer for a great cause. We are happy to help those that need a caring hand!
---
Kick it for Cancer - Carolyn W
Our team members rallied at the Akron Rubber Ducks Stadium to play kick ball and raise money for childhood cancer. We had a great time helping raise money for a great cause!
---
Serra Subaru Loves to Care @AkronChildrens - Carolyn W
Serra Subaru donated blankets and coloring packages to Akron Children's Hospital. Along the way, Carolyn and Kathy were able to meet 1 of 70 Therapy Dogs at the Hospital, named Daisy. We are happy to share a little bit of happiness to our community!
---
LLS Loves Serra Subaru - KERRI P
We are excited to be partnering with you again for Subaru Loves to Care in June. Thank you to the staff and Subaru buyers! On behalf of our patients and their families, you make a difference!
---
Serra Subaru Donates Book to Lake Intermediate - Andy H
Serra Subaru had the opportunity to give back to our community by making a book donation to Lake Intermediate School located in Hartville Ohio this month. Partnering with the AAAS we were able to visit with a 2nd-grade class and give over 100 books to share with classmates and the school library. Thanks to Mr. Klein for having us!
---
One Big Subaru Family! - Kerri P
On a hot, muggy day, Ali Yoho, Terri Jones and Carolyn Wise from Serra Subaru brought light and joy to the children, families and staff at the Akron Children's Hospital with the delivery of blankets, craft kits and notes of support. Helen Sanders, Mallory Moss and Whitney Romine, along with three student volunteers, welcomed all of us and shared stories about the impact these gifts will make. It turns out, that this group of people was "one big Subaru family" as they shared their connection through the variety of Subaru's owned. Even the students got in on it as they said they would put Subaru on their list of cars to buy! As one of the Subaru representatives shared, "Subaru is a lifestyle." The Leukemia & Lymphoma Society is grateful for the way Serra Subaru shared the love through this visit.
---
Serra Subaru Works With Habitat for Humanity - Andy H
Our team partnered with Summit County Habitat for Humanity to help build a home on June 6, 2018. We worked on two houses in the Akron area. The Serra Subaru team helped by putting up trim, mudding the garage and framing one of the homes. Serra Subaru is committed to giving back to the community, and our time with Habitat for Humanity is just one.
---
Akron Zoo Party for the Planet - Carolyn W
Serra Subaru hosted 'Party for the Planet' with 97.5 WONE and 1590 WAKR, to celebrate Earth Day at the Akron Zoo! Carolyn and Kellie represented Serra Subaru by bringing a 2018 Subaru Outback Touring. They gave out cookies for the visitors, and also had a drawing for an Eco-Friendly Picnic basket, as well as a Compost Barrel! Carolyn also did a quick question and answer on the air with 1590 WAKR.
---
Share the Love- Akron Canton Food Bank - Carolyn W
As part as Share the Love Event, Subaru donated $35,997 to the Akron Canton Food Bank! Serra Subaru also had a food drive called "Pack the Outback", which we packed a Subaru Outback full of canned food for the Akron Canton Food Bank.
---
Leukemia & Lymphoma Society Blanket Delivery - Rebecca H
Employees of Serra Subaru in Akron joined staff members and volunteers of the local Leukemia & Lymphoma society to deliver cozy blankets, children's craft kits, and dozens of care cards to cancer patients and their families at Akron Children's Hospital. The staff members of Serra were caring and kind with everyone they met, and interacted with patients as well as with doctors, nurses, and other hospital staff members. They even went above and beyond by purchasing the hottest kids' toy, fidget spinners, to deliver to the hospital's young patients to help them pass the time. The Leukemia & Lymphoma Society is so grateful for its national relationship with Subaru and for the local staff at Serra.
---
Serra Helps One of its Own - Andy H
Last month Serra held a memorial benefit lunch for one of our employees who lost a child in a tragic accident. To support the employee and the family, Serra's $25-per-person event raised $11,000, with Serra employees donating their time to organize and work at the luncheon. Serra also donated chicken and other food items to support the benefit. We also had multiple vendors participate in the event. We are a true family here at Serra and are grateful for all the great people that make up this organization.
---
Serra Helps at Pawchella - Carolyn L
We recently had the opportunity to sponsor a local pet event in our area called Pawchella. It was a celebration of animals with many animal rescue organizations helping to find homes for animals in need. We were at the event with a water station for the all the thirsty two legged and four legged friends enjoying the hot summer day. We love partnering with organizations in our community to give a chance to our furry friends in need!
---
Serra Cleanup to support Subaru Loves the Earth - Andy H
Serra Subaru was at it again in late April organizing a park cleanup to celebrate Earth Day and support Subaru Loves the Earth. Members from the Serra Subaru team spent a sunny Sunday afternoon picking up trash out of the water ways running through Memorial Park in Canton, Ohio. We were joined by a local Girl Scout troupe who asked if they could help out also...we hope they got some Badges for it! Our cleanup coincided with the Hall of Fame Marathon so we were also on hand to help clean up for the thousands of runners in the race. All in all a great day! We were proud to represent Subaru and Serra Automotive for Subaru Loves the Earth!
---
2017 Share the Love - Akron Canton Food Bank - Andy H
This April we had the privilege of presenting our friends at the Akron Canton Food Bank with a record check of $38,000, thanks to our associates and Subaru's Share the Love 2016 event. Representatives at the food bank informed us that this donation would provide 150,000 meals for people in need in our community. Our partnership with the Akron Canton Food Bank will continue into 2017 as we look for unique ways to help. At Serra Subaru, we love to "pay it forward"!
---
Stark County Humane Society Visit - Jerry C
Our friends the the Stark County Humance Society came by last Saturday for our pet adoption event. It was another great success which resulted in 6 adoptions (including one of our associates)! We cooked out for all the pet lovers and everyone had a great time getting a little love from the adorable puppies that stole the show. Serra Subaru is committed to helping organizations that help others. Whether they walk on two legs or four, we want to try help make a difference!
---
Serra Subaru Pet Adoption! - Andy H
Serra Subaru hosted the Stark County Animal Shelter for a recent pet adoption. We held a cookout for the dozens of giving people who either chose to donate goods or adopt a new pet! In all we helped find homes for 5 dogs and 1 cat along with accumulating a mountain of food, toys and supplies! At Serra Subaru we are committed to helping our furry friends and are planning another event coming up in March....stay turned for details!
---
Hope cards and blankets - Mike W
Serra Subaru recently partnered with the local Leukemia & Lymphoma Society to help in the fight against blood cancers. Customers and employees of Serra Subaru filled out hope cards and donated blankets to the children affected.
---
Hope cards and blankets - Mike W
Customers of Serra Subaru and Serra associates filled out hope cards and donated blankets to be given to the children of the community fighting against blood cancers.
---
2016 Share the Love with the Akron-Canton Regional - Mike W
For the second consecutive year, Serra Subaru chose the Akron-Canton Regional Foodbank to be the recipient of its Share the Love Campaign. Tom Flory (General Manager/Vice President) and Mike Walker (Sales Manager) presented Shelly Hinton (VP Marketing and Fund Development) and Leslie Genovese (Senior Manager, Major Partners and Corporate Relationships) with a check in the amount of $27,920, bringing the two year total to over $41,000. For over 30 years, the Foodbank has provided food and other essential items to members of the community in need of a helping hand. The Foodbank member programs operate close to 500 food pantries, hot meal sites, shelters and other hunger-relief programs. Sales Manager, Mike Walker, said that he is proud to work for a company that helps support the Foodbank and the vital role it plays in feeding those in need.
---
Subaru of America donates over $14,000 - Mike W
Check out a few photos from today's tour of the Akron Canton Regional Food bank. What a great group of people and an awesome facility.
---