The 2022 Subaru Love Promise Customer and Community Commitment Award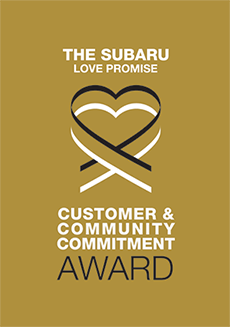 We've been nationally recognized for our dedication to our customers, our community, and the Subaru Love Promise.
We're honored to receive the 2022 Subaru Love Promise Customer and Community Commitment Award. This award nationally recognizes elite Subaru retailers who provide an exceptional customer experience at every interaction with Subaru. These retailers have also demonstrated an outstanding commitment to supporting passions and causes in their local communities in important areas such as the environment, community, health, education, and pets.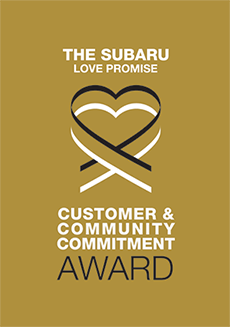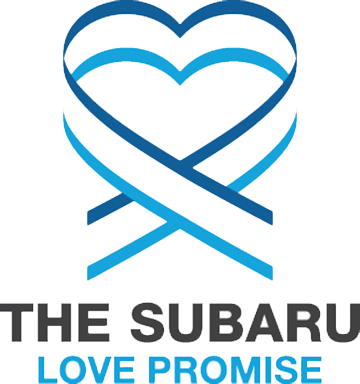 What is the Subaru Love Promise?
Subaru and our retailers believe in making the world a better place and the Subaru Love Promise is our vision of respecting all people. This is our commitment to show love and respect to our customers and to work to make a positive impact in the world.
How is Serra Subaru dedicated locally to the Love Promise?
Park Subaru's Love Promise can be seen in various partnerships with local charities and non-profits. We're grateful for the opportunity, not only to be a part of our community, but to serve it as well.
Akron-Canton Regional Food Bank
Akron Children's Hospital
Love Promise Stories from Serra Subaru
Subaru and Serra Subaru believe in making a positive impact on the communities in which we live and work. We uphold that belief through our Love Promise Community Commitment. Every month, we select inspiring stories from customers and partners from around our area who strive to support our collective commitment and feature them here
Serra Subaru Helps Feed Families - LESLIE G
Serra Subaru helps feed families facing hunger in partnership with Akron-Canton Regional Foodbank. Since 2015, Serra Subaru has donated more than $311,000 to the Akron-Canton Regional Foodbank, helping to provide approximately 1.24 million meals for those in need in our community. Meals that help people like Whitney who recently visited the Foodbank to pick up food for her family and seven others. Each week, she delivers groceries to people who don't have a car or cannot leave home. "One of the ladies I deliver to, she has back problems," she said. "And grandpa, he's home by himself." Whitney said she's noticed more people need food assistance since the pandemic began. She is grateful to have full-time employment at a local breakfast restaurant, but "I'm the only person providing right now for my household," she said. Thanks to the Foodbank and partners like Serra Subaru, she's able to provide for her family—including her 9-year-old daughter and 4-year-old son—while also lending a hand to others in need.
---
Spooky Subie Pet Adoption - Stefanie M
The Northeast Ohio SPCA is proud to have partnered with Serra Subaru in Akron, Ohio to host the first ever "Spooky Subee" pet adoption event on October 23, 2021. Thanks to a grant from Subaru Loves Pets, we were able to bring 15 puppies and 5 kittens that were fully spayed/neutered, up to date on shots and microchipped for their new owners. We are thrilled to share that all 15 pups found their perfect forever families and some of the kittens went home too! Partnerships like this mean the world to us. Our non-profit, no-kill shelter does not receive any government funding and relies on community partnerships to help keep our doors open. We are incredibly thankful that Subaru is so supportive of the furry community and shares our mission to help every homeless pet find their perfect forever family. Thank you, Subaru!
---
School Supplies for Students in Need - Julie M
During the weeks leading up to the start of a new school year, Serra organized a school supply collection for Green Local Schools. Working closely with our district's Family Support Specialists, Serra employees and Serra customers contributed some of the students' most needed items. The Family Support Specialists picked up the results of the effort on September 3, 2021. The items were well organized and assembled in easy-to-carry boxes. Serra employees graciously offered to assist in moving the boxes to cars. Nearly 23% of the district's students are at or below the poverty level. The supplies collected ensured many of these families were set up for success without imposing an additional economic hardship. The district is so appreciative and thankful for not only this opportunity but our community partnership with Serra Subaru and Serra Auto Park
---
Serra Subaru Helps to Clothe Canton - Carrie M
Serra Subaru reached out to me because they wanted to help us at the Canton Free Store and Fresh Market. Our organization started serving Stark County in 1992. We provide gently used clothing, household items, and fresh produce to those in need. We do this in an environment that preserves the dignity that all people deserve on order to help them thrive in society. Serra Subaru asked us what we were most in need of. We asked for men's and children's clothes above all else. About a month later, Mike LaGuardia and Casey Dungan show up at our storefront with an Outback packed to the ceiling with clothing for our store. Most of it was men's clothing since that was our need. They brought us women's and children's clothing, household items, and toys. It is such a blessing to have these items for the people who need them. I gave Mike and Casey a tour of our facility. Upon seeing our needs, they promised to continue to support our mission. Thank you, Serra Subaru! -Carrie Maletich Fresh Market and Free Store Coordinator
---
Terrance, Faith and Lulu's Adoption Journey - Tanya J
The story you are about to read is about three, yes three, feline leukemia positive cats who all found a loving home together. Feline Leukemia is not, in fact, cancer. It is a virus that weakens the immune system and causes the infected cats to contract potentially fatal diseases. They can suffer from a runny nose, eye discharge, vomiting or diarrhea as well. As soon as any symptoms are noticed, they should be promptly taken to the vet. Most shelters will not house or keep Feline Leukemia positive cats because it is highly contagious. They cannot be housed or in proximity with any other healthy cats or they risk spreading the virus. We have a room designated for our Feline Leukemia positive cats. They can happily co-exist together, if they are not doing well together, we will separate as needed. Let us start with Terrance. Terrance came to us in July of 2018 as a stray; during his initial intake he tested positive for Feline Leukemia. Terrance was a tough one, he was considered "semi-feral" and could not be touched by many. He would tolerate a pat or two but was always quick to tell you when he had had enough. He waited over 2 years to find his forever home. Now, he sleeps on his new owners' feet every night! Faith is a feline leukemia positive cat that arrived in our care in August of 2020 and was with us for 2 months before finding her forever home. Not only is she positive for feline leukemia, but she is also blind. This made it difficult for her to navigate the room and all her food, water, and litter had to be on the floor. Faith also did not have any teeth and could not fend for herself. Now, she follows her siblings around the house and runs up and down the halls. Lulu came to us in August of 2020 as well, after she tested positive at another shelter. Lulu was a very shy girl and was not doing well in our group room. She is a tiny girl and was getting bullied for food. Now, she is thriving in her home and does not have to compete for any food or treats. Her new owner gives Terrance, Faith, and Lulu undivided attention and love. Their new owner came in to adopt after losing her 19-year-old Feline Leukemia cat. She was undecided initially and one of our staff members jokingly asked her to adopt all three, and she did, without batting an eye. One feline leukemia positive cat is a big commitment, as their health can be unpredictable at times. She selflessly adopted three positive cats to give them all a chance at a long and happy life. Typically, our Feline Leukemia positive cats tend to stay at the shelter longer than most, as their health issues tend to scare or make potential adopters nervous. Our goal is to educate the public and show them feline leukemia is nothing to be afraid of. We could not be more thankful for our adopters, and for them giving our pets a chance and changing their lives.
---
ACCESS, Inc - Dominic H
ACCESS, Inc. is an emergency shelter in Akron, Ohio that works to address the plight of women and children in our community experiencing homelessness. The agency encourages the development of self-esteem and the attainment of self-sufficiency through its commitment of providing a holistic, safe and supportive environment, and through it's programs of housing, advocacy and empowerment. Each year ACCESS serves anywhere between 400 and 450 women and children with 55% of the residents being children under the age of 18. The blankets provided by Serra Subaru will impact the shelter by providing warm nights for those staying with us this winter. Blankets, twin sheets sets, and pillows are something that ACCESS will always need as residents take all of those home items with them when they leave and exit into their permanent house or apartment. As a result the agency goes through a lot of these items each year. ACCESS would not be able to function without the support of community members like Serra Subaru, and the support provided will truly make an impact this winter season and beyond.
---
Serra Subaru & Ambassadors Team up for Troops - Terry T
In late September a group of Subaru ambassadors, employees, and volunteers gathered together to pack goodie bags for a group of deploying troops. Serra Subaru donated bags, offered a location, and set up a great area to collect handwritten notes of encouragement. Along with the help of our other volunteers we were able to stuff 150 bags for a local transportation unit leaving in October. The bags were filled with snacks, reading materials, and thank you gifts like a picture frame. Offering support for our hardworking national guard troops was the main goal but surely after seeing all the snacks and reading the handwritten notes we were also able to bring a smile to their faces. Leaving your family and loved ones to help our country is a big commitment and we wanted to say thank you the Subaru way. Mission accomplished! Thank you also to Serra Subaru and Subaru Ambassador program for your support and for always showing just how much Subaru Loves to Care.
---
Serra Subaru helps feed the community - Serra Subaru S
Serra Subaru helps feed families facing hunger in partnership with Akron-Canton Regional Foodbank Serra Subaru donated more than $32,000 to the Akron-Canton Regional Foodbank, helping provide the equivalent of nearly 129,000 meals for the 1 in 7 individuals, children and senior citizens in Northeast Ohio who struggle with hunger. It's because of partners like Serra Subaru that families aren't forced to make difficult decisions like choosing between a nourishing meal for their children and paying for rent, utilities or medication. Because of their support, families can find hope. LESLIE GENOVESE // Director, Corporate RelationsAKRON-CANTON REGIONAL FOODBANKmain 330.535.6900 // direct 330.777.7572350 Opportunity Pkwy, Akron, OH 44307
---
Serra Subaru donates books to Uniontown Elemantry - Carolyn W
Serra Subaru donated books to Uniontown Elemantry during our Subaru Loves Learning Event! These pictures make our hearts smile. We love contributing to our community!
---
Volunteering for Habitat for Humanity - Carolyn W
Once a year we volunteer for Habitat for Humanity to help build a local home! We had multiple team members volunteer for a great cause. We are happy to help those that need a caring hand!
---