Ascent Models for Sale in Ohio
Offering true SUV versatility and state-of-the-art innovations, the new 2021 Subaru Ascent can help make any trip you embark upon more enjoyable for all occupants. Whether you're setting off on a new Akron adventure or just making a quick trip to the grocery store, your 2021 Ascent will ensure that you're always traveling in premium SUV style. Built for the long haul and engineered to last, the new 2021 Ascent models at Serra Subaru Akron were crafted to both amaze and excite.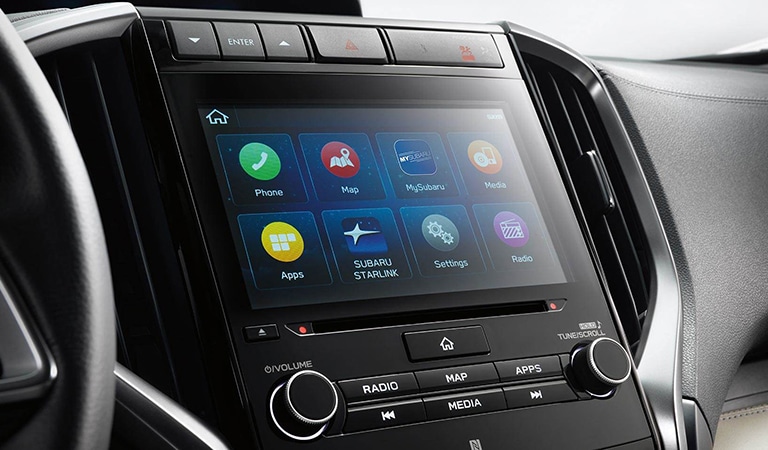 Easily keep all vehicle occupants entertained with the innovative amenities found in the new 2021 Subaru Ascent. Available technology features include:
STARLINK Entertainment Anywhere
Built-in Wi-Fi Hotspot
Auto-Dimming Exterior Mirror
Dual front, second- and third-row USB ports
And more
The new 2021 Subaru Ascent was specially engineered to provide optimal balance and an even distribution of power. Available performance features include:
Active Torque Vectoring
Traction Control System (TCS)
X-MODE
Trailer Stability Assist (TSA)
And more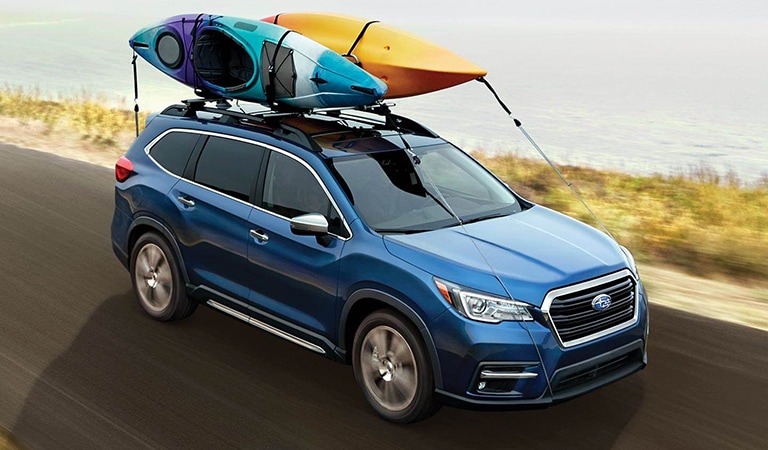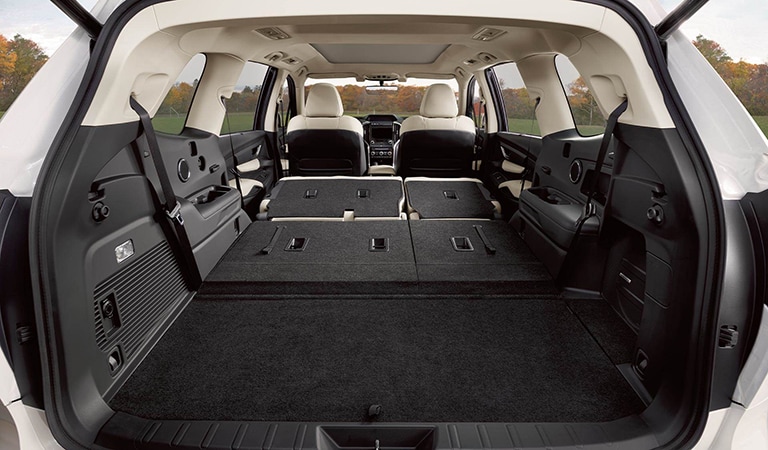 The 2021 Ascent is able to easily adapt to any situation with your choice of seven- or eight-passenger configurations. Available interior features include:
Heated front seats
120 Volt Power Outlet
Harman Kardon Surround Sound
Power adjustable front seats
And more



Available Trims
Is AWD Standard on the Ascent?
Amongst the base level as well as Premium, Limited and Touring trim levels, All-Wheel Drive comes standard across the Subaru SUV lineup. Subaru's symmetrical AWD is a game-changer for Subaru drivers, and in the Ascent model, the large SUV provides a smooth traverse with 8.7 inches of ground clearance and an AWD  X-Mode.
Is the Subaru Ascent spacious?
With the ability to lug any cargo, the Ascent has more passenger space, 153.3 cubic feet, and more maximum cargo space, 86.5 cubic feet, than many of its competitors. Although the captain seats are not removable, drivers can fold down the third row to create a 47.5-cubic-foot hold, or fold down both rows of seats for up to 86.5 cubic feet of space. The Ascent has a 17.8-cubic-foot cargo area behind the third row.
How much can the Subaru Ascent tow?
The Subaru Ascent's Towing capacity is 2,000 lbs but increases to 5,000 lbs by installing a hitch which makes it a great choice if you're looking for an SUV with the power to haul fairly large loads. The Subaru Ascent EcoHitch is manufactured to provide efficiency in towing without having to worry about the load or tow weight.
What are the technology packages available in the Subaru Ascent?
Among the many advances in technology, the Subaru Ascent features a remote start engine starter, built-in WiFi hotspot connectivity and USB chargers, and Subaru Starlink Entertainment available on all models. The Power Rear gate which comes standard on the Limited and Touring allows for automatic opening when your arms are full!
What features are available in the Subaru Ascent?
The Subaru Ascent Limited 7-Passenger and 8-Passenger models include moonroof, leather seats, and navigation system features for starters. Other 2021 Ascent models like the Touring 7- Passenger also provide Emergency Communication Systems and blind spot monitoring along with other safety features available in Subaru SUV models.
---
Benefits of Leasing a New Subaru Ascent
If you are looking for a new Subaru Ascent, you might be considering leasing. You may want to lease because of how it can save you money. If you are unsure if leasing is right for you, you might want to think about it. Leasing can be a smart decision if you are looking for the right car for your family. To lease a Subaru Ascent, you need to fill out an application and go to a dealership. The dealership will calculate your monthly payments, credit score, and other factors. Once you're approved, you'll begin paying a fixed monthly payment to the dealership, which will, in turn, lease the car to you. Here are reasons you should opt for leasing a Subaru Ascent.
Leasing a Subaru Ascent has low monthly payments than buying a car. You will not be required to pay the total price of the car. Instead, you will be required to pay a fixed monthly payment. Therefore, it is often cheaper to lease a car than to buy a car. If you are looking for a Subaru Ascent, leasing is the best way to go.
Additionally, leasing requires no down payment is a requirement. The down payment is the money that you will pay for the car. If you are looking to finance a new Subaru Ascent, you will need to pay a down payment. However, the leasing option requires no down payment, and you can still get a great deal. Further, when you lease a car, you will not have to worry about repairs. The manufacturer will handle all the repairs. If you are looking for a new car and are not concerned about the repairs, leasing a car might be a good choice.