Discover a new level of customer service at Serra Subaru with specialized delivery of your next vehicle in Akron OH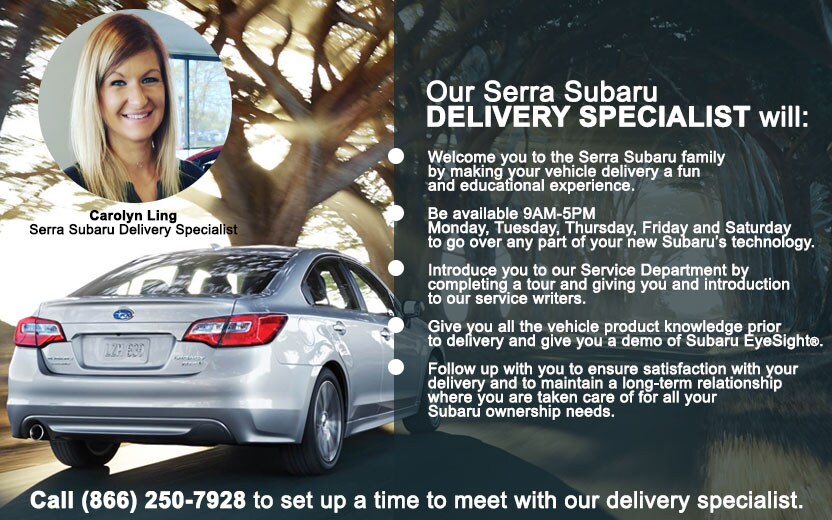 Too often these days, taking delivery of your new vehicle consists of a salesman tossing you the keys and then flashing a smile and maybe a friendly wave. Well here at Serra Subaru, we believe you deserve more. This is why we have a delivery specialist on staff to not only make sure your new Subaru is ready, but also go the extra mile to ensure that you are familiar with all of your vehicle's features and their operation.
Our delivery specialist, Carolyn Ling, is an expert on Subaru and all of the remarkable technology that comes with it. She will provide you with a complete demonstration of all that your new Subaru offers and ensure that your compatible personal devices are seamlessly connected to your Subaru and the StarLink infotainment system. Carolyn will also provide you with a first-class tour of our facilities. Our appreciation of our customers extends beyond the delivery of your new vehicle; Carolyn will also follow up with you after you have had some time to settle into your new ride. If need be, Carolyn will be happy to provide you with a refresher of your Subaru vehicle's technology. This is yet another example of how we go above and beyond for our customers at delivery and well down the road at Serra Subaru. We don't just want to earn your business once: we want to develop a long lasting relationship and take care of you and your vehicles no matter where the road takes you. We are honored to be your premier Subaru dealership, so stop by and let us extend our hospitality.
VIP customer service is standard at Serra Subaru in Akron, Ohio
When you find your next vehicle among our huge inventory at Serra Subaru, you will be treated to an experience well above other dealerships. Our on staff delivery specialist will make sure that you are comfortable and knowledgeable with all of the great technology that comes with your new Subaru. We also provide a range of certified pre-owned Subaru models and a vast selection of top-quality used vehicles. When it comes time for maintenance and repair, our Service Department puts quality and convenience above all else. You are sure to find the genuine Subaru parts and accessories you need in our well-stocked Parts Department.
Come see the difference for yourself at 3363 South Arlington Road 44312. We'll have everything ready for your visit when you call (866) 250-7928 to schedule your appointment. We look forward to earning your business at Serra Subaru.