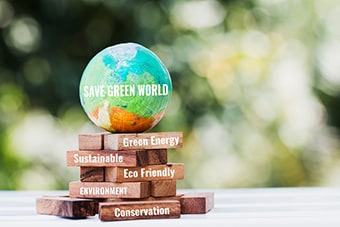 There's a lot to love about Subaru.
Superior safety ratings and care for local communities are just the tip of the iceberg.
One of the aspects Subaru is most proud of is concern for the environment.
Let's take a look at Subaru sustainability.
Vehicle production
Manufacturing vehicles takes a massive amount of energy and resources.
Subaru believes that it's car makers' responsibility to reduce the impact of the vehicles they're producing as much as possible.
Recycling
The Earth-conscious engineers at Subaru have found a way to recycle everything they can, including:
Bumpers.

Steel.

Shredder dust.

Airbags.

CFC substitutes.

Returnable packaging materials.
What the manufacturers discovered is that, to maximize the possibilities, recycling has to be kept in mind from the design stage.
This is accomplished by using materials that can be recycled easily and a structure that's simple to dismantle.
Another important factor is labeling all the materials well so that there's no question about what can be reclaimed.
Clean factories
Clean factories are the starting points for green vehicle production.
Subaru's Japanese and other overseas factories have consistently earned "Zero-emission factory status."
This means that waste has been reduced to virtually nothing.
Added to low water consumption and energy-efficient manufacturing processes, the impact is great.
Doing good around the globe – and right here
Every part of Subaru's production process has been streamlined to create safe, cost-effective vehicles that lessen the negative consequences on the environment.
At Serra, we're proud of the Subaru-sponsored work we are able to do in our own community, as well as the Earth-friendly way they manufacture vehicles.
When you buy a Subaru, you're helping to further their mission to do good around the globe.
Ready for your new Outback, Forester, or Legacy? Maybe you want to take the 3-Row Ascent for a spin?
Come and see us at your Akron-Canton Subaru!