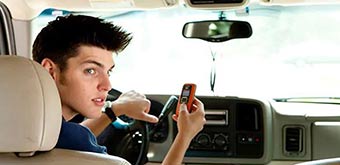 Editor's note: This post was originally published on 9/6/16 and has been updated for accuracy and comprehension.
It's the best day of your teen's life.
And perhaps the scariest day of yours.
The day your teen takes to the road can elicit excitement and fear – all at the same time.
To keep your teenager safe, be sure he or she practices these safe driving tips:
Always obey the speed limit.

Wear your seatbelt at all times.

Make sure the headrest is positioned directly behind your head.

Always drive with a clean windshield for optimal visibility.

Put your hands at 3 and 9, or 4 and 8. Using the 10-and-2 position is no longer recommended. A lower position is ideal in case the airbags go off.

Don't assume other drivers will make safe moves. Always drive defensively.

Stay out of the way of aggressive drivers.

Don't swerve into other lanes and avoid pulling out in front of other vehicles.

Before putting the car into drive, check the gas gauge and fill up if you need to.

If you're driving at dusk and dawn in rural areas, watch out for animals – especially deer – that might cross the road in front of you.

Once a traffic light turns green, take a quick look to make sure the intersection is clear.

School parking lots and roads nearby are prime spots for accidents. Get to school early and leave a little later to avoid "rush hour." If you can, avoid pulling into a space that requires you to back out later, which can be difficult to do in a crowded parking lot.
Give your teen the right tools
If you've been driving for decades, it can be difficult to remember specific rules of the road, because they've become second nature.
Use this list of driving tips for teens to ensure your precious cargo is as safe as possible behind the wheel.
For help getting your teen into one of the safest cars on the road, contact Serra Subaru today!