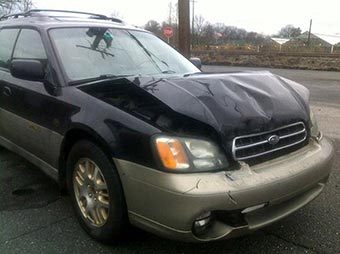 Editor's note: This post was originally published on 9/20/16 and has been updated for accuracy and comprehension.
The warm weather brings an increase in animal activity.
While deer pose the most risk for you as you're cruising the roads, other animals may unceremoniously meet their fate during an encounter with your vehicle.
Here's what you should do if you collide with a deer or other animal.
Stop your vehicle.
Even if another car causes you to swerve and you hit a deer as a result, you should stop the car.
Remain at the scene.
If you've hit a deer, you'll need to contact the police.
In most states, you're required to report the incident to the police, an outcome of the Road Traffic Act of 1988 (a law that pertains to dogs and large animals).
Avoid dangers.
Don't attempt to approach a deer that you've hit.
A frightened animal could end up hurting you.
In addition, if you venture out onto the road, you could put yourself in danger's way and in front of oncoming traffic.
Wild animals.
If you hit a deer or another wild animal, observe the animal's condition to assess its injuries. It may be possible to save the animal by calling a vet or wildlife rescue.
Pets
If you hit an animal that is clearly someone's pet and the owner isn't around, you'll need to call the local police.
Safety first
Deer, wild animals and domestic pets are everywhere. If you find yourself face-to-face with one of them, know how to stay safe and respond.
Did you know that Subarus consistently win safety awards? They're also made from parts manufactured right here in Ohio.
If you'd like more tips about car safety, contact the experts at Serra Subaru.