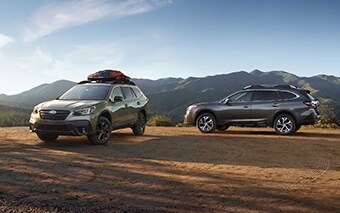 Your old favorite has some new features.
The all-new 2020 Subaru Outback is ready to hit the scene with upgrades that you're going to love.
Let's take a look at what's new. (Hint: Very little is "left-over" from previous models. It's almost ALL fresh, from the ground up!)
2020 Outback highlight reel
Here are some hot takes about the latest Outback.
The infotainment system is a formidable 11.6", tablet-style screen.

Equipped with the "Global Platform" that is a feature of almost all of today's Subaru vehicles.

A "vegan-leather" option. The Onyx Edition has a non-leather material that's easy to clean, just like the real stuff.

A hands-free power gate.

2.5-liter base engine with 182-hp.

An optional 2.4-liter turbocharged engine with 260-hp. How about 0-60 in less than 7 seconds?

Improved Subaru EyeSight System, including DriverFocus Distraction Mitigation.
Available models
The all-new 2020 Subaru Outback will be available in 7 different trim levels.
Base.

Premium.

Limited.

Touring.

Onyx Edition XT.

Limited XT.

Touring XT.
It's worth pointing out some cool features of the Onyx Edition XT.
This trim level has black-finish exterior elements, 18-inch alloy wheels, and a two-tone gray interior that's exclusive to the Onyx.
A quieter ride
One of the few complaints about some Subaru models is the interior noise.
The new Outback takes care of this problem in brilliant form.
It's nearly 3 decibels quieter on the highway. Subaru owners will notice the difference right away.
How did the technicians manage this?
With new door weather strips that have a baffle in the middle and dual lips on the roof side. But that's not all.
Sound-insulated glass also a factor, as well as increased glass-thickness.
Experience the all-new Outback
The 2020 Subaru Outback will hit your Serra Subaru dealer in the fall of 2019.
It's never too early to start a conversation with the friendly sales staff.
Don't forget that when you drive a Subaru, you're driving the safest vehicle on the road – and you're contributing to the local economy because they're made with parts manufactured right here in Ohio.
Stop in and see us today!