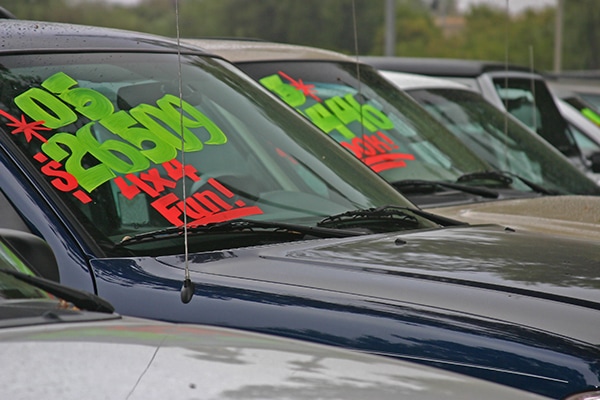 A new car vs. a used one.
It's an age-old question for car shoppers everywhere.
Many people make the choice to go used because it seems to give them more bang for their buck.
If you're among this group, your biggest question may be about miles.
How many are too many for a used car?
Let's take a look.
Used car mileage guidelines
Given the choice between a vehicle with 50,000 miles and one with 200,000 miles, you wouldn't be alone in assuming that the car with lower miles would be the obvious choice.
But it's not quite that simple.
Mileage alone doesn't tell the whole story.
Here are four different scenarios to consider.
Car #1
This vehicle has 50,000 miles that are almost all highway miles. It's owner was a traveling salesman who was a stickler for regular maintenance, kept up with repairs, and was a meticulous record-keeper of all that was done to the vehicle.
No used-car shopper in their right mind should pass up this deal.
Car #2
This car was a rental.
Though the miles are high, it's a newer model year and the rental company did a great job of maintaining the vehicle.
A former rental car that's been properly reconditioned is arguably one of the best used-car values you can find.
Car #3
This vehicle is ten-years-old.
You can assume that an owner will put an average of 12,000 miles per year on a vehicle, so at 90,000, this car seems like a good idea on the surface.
Unfortunately, the owners didn't keep up with oil changes.
They didn't make repairs when they were needed, let alone provide any preventive maintenance.
The owners didn't keep any records of any work that was done over the car's life.
Your best bet is to steer clear of this pick. It won't have much life left after years of abuse.
Car #4
This car's also ten-years-old.
But this one was owned by an elderly owner who put an average of 3,000 miles on the car a year.
You can safely assume that a car like this has been meticulously cleaned, kept in a garage, and probably looks just as good as the day it hit the showroom.
The biggest issues are with things affected by age, such as a weakened battery and some dry rot – all of which can be easily fixed, giving the car a lot more life left.
The bottom line? Do your homework and ask the right questions about each used vehicle you're interested in.
Longevity is the name of the game with Subaru
When it comes to used cars, you usually can't go wrong with a Subaru.
Their longevity and resale value are award-winning.
Come see us at Serra Subaru and check out our full range of used vehicles.
Plus, you'll be supporting the local economy because Subarus are made from parts manufactured right here in Ohio.