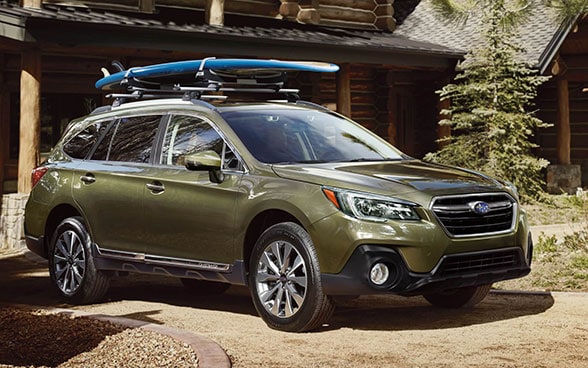 The Subaru Outback has been a standard-bearer for many years and the 2018 model is no different.
From the safety ratings to the uniquely-Outback look, it's a winner all around.
The changes for 2018 are subtle but make a big impact on this already popular vehicle.
What's new?
Subaru hasn't made sweeping changes so much as tweak some aspects to make them even better.
They've made some changes to the interior and exterior appearance, including bulking up the rear bumper and making the front grille wider and lower.
The headlights got some tweaks, as well, and the Limited version has a new wheel design.
The highlights
Improvements in ride quality, including less interior noise
Upgraded safety technology
Upgrades to the electronically assisted power steering

Safety features
No review of a Subaru vehicle would be complete without pointing out the safety features.
Consistently at the top of "best in safety" lists, here are some of the elements worth a mention.
Optional swiveling headlights
Automatic high beams
Standard rearview camera with adaptive guidelines
Individual tire pressure monitors
Automatic locking doors
Reverse braking system
Lane-keeping assist that operates at as little as 37 mph

Gas mileage
These are averages across the different Outback models.
20-25 mpg in the city, 27-32 on the highway, and a combined mpg of 22-28
Available models and starting prices
2.5i: $25,895
2.5i Premium: $27,995
2.5i Limited: $32,995
3.6R Limited: $35,395
2.5i Touring: $36,490
3.6R Touring: $36,890

The bottom line
The Subaru Outback has been a solid performer for a long time and the 2018 lives up to the expectations of brand enthusiasts.
Loyal Subaru drivers will be delighted to know the newest Outback doesn't disappoint but delights.
Small changes add up to a new spin on an old favorite.
At Serra Subaru, we'd love to show you around the newest Outback.
Let's go for a spin!
The icing on the cake? The Subaru Outback has parts made right here in Ohio.