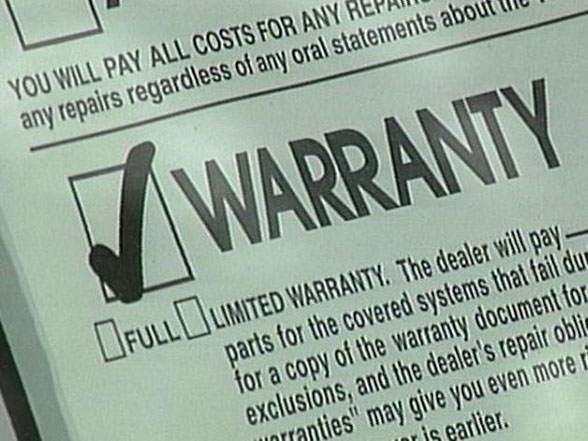 Your new car comes with a manufacturer's warranty.
If you're thinking that it's going to cover everything, you're going to be disappointed.
While the warranty will cover a lot, it's important that you have an understanding of what's NOT covered.
Wear items
There are certain parts of your vehicle that will wear down over time and these are generally not covered under your manufacturer's warranty.
This includes items such as:
Tires.
Brakes.
Most engine belts.
Most hoses.
Headlight and interior light bulbs.
The clutch in a vehicle equipped with a manual transmission.

Because many of these items are some of the most expensive repairs, it's crucial that you know what is and isn't covered when you sign the papers to purchase the vehicle.
Body panels
If you get a ding in your door from someone who parks too close or scrapes from a rogue shopping cart at the grocery store, don't expect your warranty to cover the damage.
The damage resulting from an accident won't be covered, either.
These are mishaps that should be covered by your auto insurance policy, however.
Interior repairs
Repairs to the inside of your vehicle will be your responsibility unless they are the result of a manufacturing defect.
For example, a seat belt that stops working would be covered but not a hole that you poked in your leather seats.
Unusual use
Basically, if your car is damaged in the act of using it for something other than its intended use, don't expect that damage to be covered.
For example, if you stick a snow plow on the front of your SUV and tear the bumper off, you're out of luck.
Another example is the damage to your vehicle that's caused if you take it off-road.
Don't panic
While this list may seem a little daunting, don't worry.
Your new vehicle's manufacturer's warranty is going to cover the majority of issues you may face.
If you have any questions about your new Subaru's warranty, come and see the folks at Serra Subaru for help!