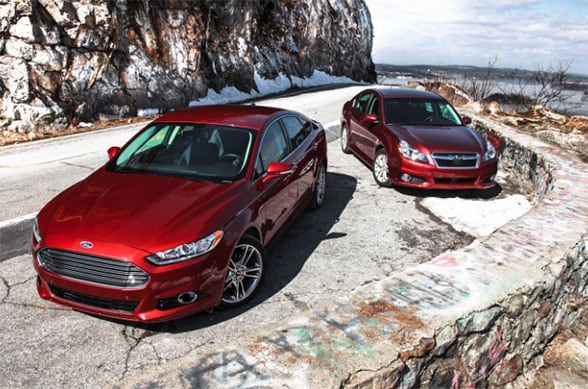 Deciding on a new vehicle can be difficult.
There are a lot of factors to think about and choosing between two or more cars that all seem great can be confusing.
It can help to narrow it down to two options and do a comparison.
You're in luck because we've done some of the work for you!
Let's see how the Subaru Legacy and the Ford Fusion, two popular midsize sedans on the market, stack up against each other.
Pricing
These similar sedans also have comparable price ranges, but the Subaru Legacy comes in a little lower than the Ford Fusion in base price.
Fuel efficiency
The Fusion and the Legacy are evenly matched in how many miles per gallon they get, each at 34. In city driving, however, the Subaru pulls ahead with 25 to the Ford's 22. Those city miles can add up to savings at the pump over time.
Safety
The safety features create a gap between these two vehicles.
The Ford Fusion lacks the highly-rated EyeSight System that the Subaru Legacy has. This system has adaptive cruise control, lane departure warnings, and automatic pre-collision braking, to name a few.
Comfortability and space
One of the concerns of mid-size sedans is always space. It's important that your vehicle has adequate legroom and headroom for you and your passengers. While the Fusion is comfortable, it doesn't have the spacious feel of the Legacy's interior.
These sedans are pretty evenly matched when it comes to trunk space, each having an impressive amount of room for cargo.
Which midsize sedan is right for you?
Only you can decide which car suits your needs but the Subaru Legacy comes out a step ahead of the Ford Fusion in several key areas.
Come visit us at Park Subaru and take a Legacy for a spin!