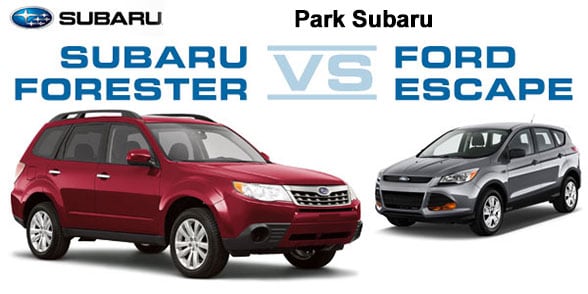 Deciding on a new vehicle to purchase can be difficult. There are a lot of factors to consider and you have more choices than ever before.
If a compact SUV is what you're looking for, comparing your options can give you a little clarity.
The Subaru Forester and the Ford Escape are two of the most popular small SUVs on the market today.
Let's take a look at how they stack up next to one another.
Pricing
The Subaru Forester is a winner in this category, coming in at a lower base price than the Ford Escape. Even with options above what comes standard, the Subaru is the better value.
Comfortability
While versatile vehicles such as these aren't necessarily known for their cushy seating, the Ford Escape's seats are a little on the firm side. The Subaru's seats offer a little more give and comfort.
The Escape and the Forester are very similar in terms of interior dimensions, though the Subaru has a couple extra inches in just the right places—headroom and legroom—to provide a more spacious feel.
Cargo space
If you've ever needed to haul anything in your vehicle you know how important a few inches here and there can be.
The Subaru Forester really shines when it comes to cargo capacity. It offers more space, as well as more versatility.
Safety
While car manufacturers have to meet certain safety guidelines, Subaru goes above and beyond that mark. In this case, the Subaru Forester wins the contest, hands-down, providing the ultimate in safety features that will protect you and your family whenever you get inside the car.
The result
The Ford Escape and the Subaru Forester are worthy components. They come out even in fuel economy and size, but the extra interior space—for cargo and for passengers—push the Subaru over the top when combined with comfortability and pricing.
Why not come see us at Park Subaru and take a spin in a new Subaru Forester? We're ready and waiting!